Meet Rawe Power Racing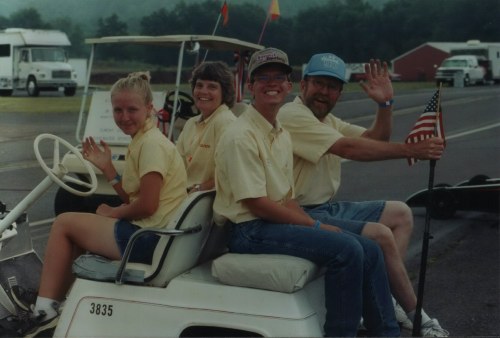 Left to right: Dina, Rosanne, Ben and Bernie
Rawe Power Racing began in 1976 when Bernie started racing at Thorn Hill, an independent drag strip in Kenton, Kentucky. He started racing with a 1965 Chevy II Nova that he had driven to high school. Over time, the street car evolved into a street rod, and then a homegrown race car. It ran a best of 12.74, with a Muncie 4 speed and a 327 small block Chevy.
In 1981, Bernie entered his first race at Edgewater Sports Park, in Cleves, Ohio. During the second round of competition, a broken rear axle ended the day of racing. That broken axle did more damage than anticipated; Bernie had an absence from racing, lasting until 1996, excusing the occasional pickup truck entry in bracket 3. After breaking the tiny stock Chevy II axle, Bernie decided to start over and rebuild the Blue Spruce Deuce as a real race car. Bernie and his new wife Rosanne's residence did not have sufficient space for working on the race car, so Bernie drove to his friend's garage, every night, to work on the car. Realizing that this arrangement was not the best for a newlywed couple, they bought a new house in 1983, which included a large garage. This new home, in conjunction with the birth of their son, Ben, in 1984 and their daughter, Dina, in 1985, put the race car project on hold. The shell of the race car that remained sat dormant in the garage for many years. In 1995, work on the Chevy II resumed.
Bernie returned to drag racing once again, in the summer of 1996. This time however, it was a family effort with Ben at the wheel of a new junior dragster. The plan was to get their feet wet in junior drag racing with Ben driving. Dina was supposed to begin sharing the dragster with Ben for the 1997 season. After racing it once at the end of 1996, Dina decided to pursue another interest instead of driving. She chose to take riding lessons with Bandit, her aunt's horse.
The name Rawe Power Racing was acquired over the winter of 1996-1997, when the junior dragster was painted. Coincidentally, Bernie's brother Dave, living in Maryland, had sponsored his son's soccer team, also giving it the "Rawe Power" name.
After enjoying much success, 2001 marked the end of Ben's junior racing career. Over the years of junior racing, Rosanne even raced in a couple parent races, wining one round in each. Bernie also raced in several parent races. His greatest accomplishment was making it to the semis at the 2000 Buckeye Open at National Trails Dragway. Dina made various appearances in the junior dragster, but never took up a very active driving role until 2001. For several weeks during the summer, she raced a car borrowed from our friends, Pat and Nathan Fanning. For the 2002 and 2003, Dina became the full- time pilot of our junior dragster.
The 1965 Chevy II that Bernie began racing in 1976 is still around, but looks much different than it did during its years of dormancy. During Ben's 6 years in the junior, work continued on it. In August of 2002, the Chevy II finally made it back to the race track. Ben now races it in both "Box" (Super Pro for NHRA, Top ET for IHRA), and "No-Box" ET classes (Pro for NHRA and Modified for IHRA). At this point, Rosanne is content to remain as the team's quilter and moral support. Dina has retired from her driving duties. Dad returned to competition for the first time in 22 years, on September 7, 2003, at the Eastgate Classic Drags and Car Show, in the Nova. In the first round, he had a perfect .500 reaction time, and he went on to win his entire class! That was his first final, ever! He won two more rounds, before finally losing in the final of the top eliminator runoff.