1965 Chevy II Nova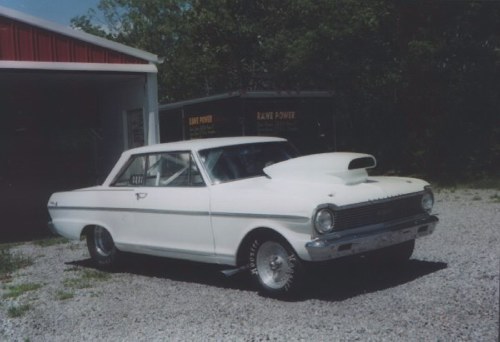 Sitting outside the garage, with NEW PAINT! (2003)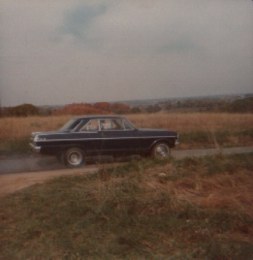 The Chevy II's original look (July 4, 1976, left)
Peeling out on Reis Ridge (1977, right)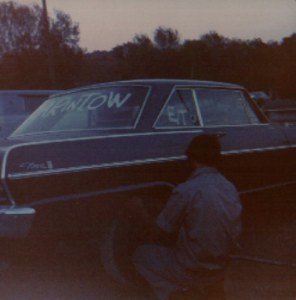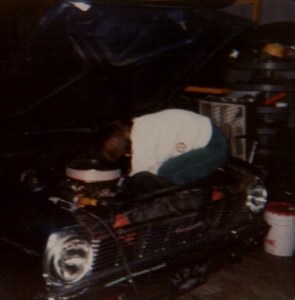 Bernie's friend and future brother-in-law Carl, putting on the slicks (1978; left).
Rosanne's small hands worked well for starting nuts on the bolts holding on the fan (1979; right).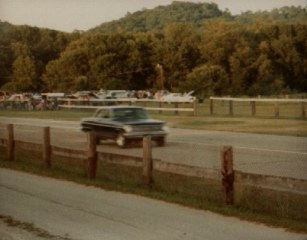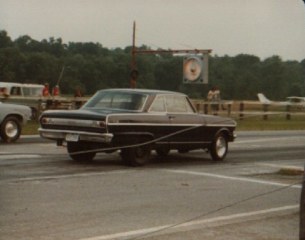 Bernie racing at Thorn Hill
Note the clocks in the picture on the right. It is rumored that Thorn Hill was the last track in the United States to be using clocks instead of a Christmas tree. They were finally replaced some time in the mid 90's.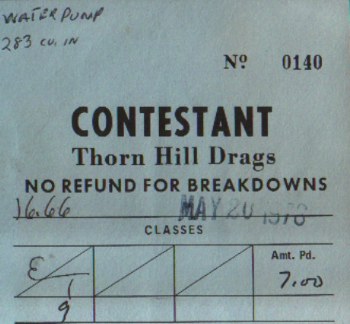 The tech card from Bernie's first race (May 20, 1976) - Thorn Hill didn't have time slips then.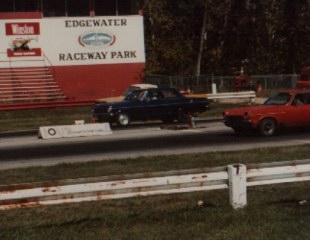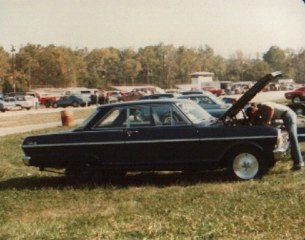 Bernie's first race at Edgewater(1981); and the Nova's last race (until 2002). When an axle broke in the second round, he decided to start over, and build it into a better race car.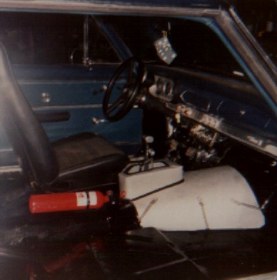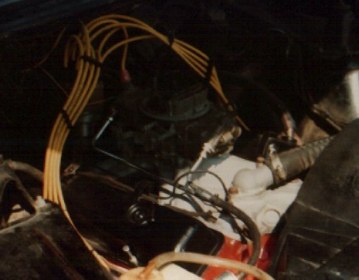 A Muncie 4-speed with a Mr. Gasket Vertigate Shifter (left). A 1969 327 Chevy with a Torker intake, Holley 750, TRW 11.5:1 pistons, TRW hydraulic cam - .456 lift and 287 duration, and camel hump heads with 1.94 intake and 1.50 exhaust valves (right). Its best ET was a 12.74.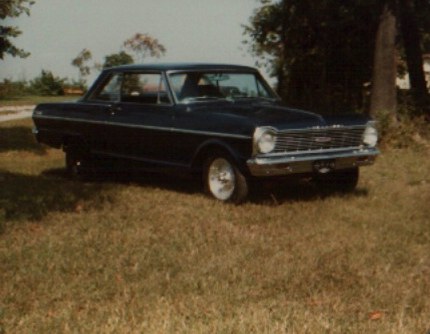 The Way It Was Then
Car was lightened by removal of heater, wipers, interior, etc. Center Line aluminum front wheels. Wheel wells were opened up to fit 9 inch slicks on 8 inch steel rims dished over the axle. Axle housing came from a 1962 Chevy II with a limited slip differential, 5.13 gears, and slapper bars. All home-built, and all fun...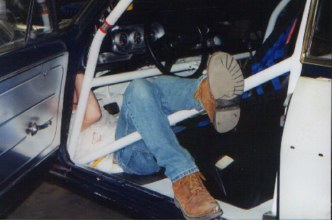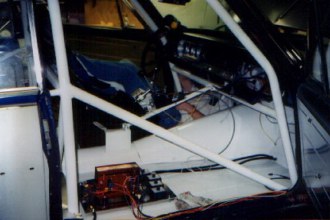 This is Ben, doing the fun part of wiring a race car.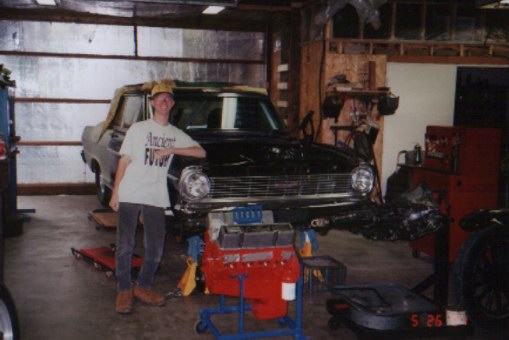 The Way It Is Now
383 Chevy with 215 cc Dart Pro-1 Heads, Victor Jr. Intake, 950 Holley 4150 HP alcohol carburetor built by APD, 13.0:1 compression, Crane solid lifter cam, roller rockers and stud girdles, Eagle 4340 crank and H-beam rods, and MSD 7AL3 ignition. TCI Powerglide transmission and 5500 stall convertor. Round tube chassis from the firewall back. Dana 60 rear end with 4.88 gears, ladder bars, and 14 x 32 slicks. The best pass to date has been a 10.13 (6.39 eighth mile) at 129 MPH (106 eight mile), by Ben. Bernie's best is a 10.70 at 124 MPH.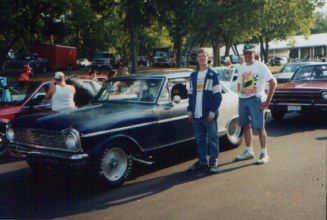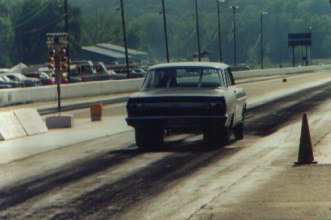 Ben's first passes (Edgewater, 2002)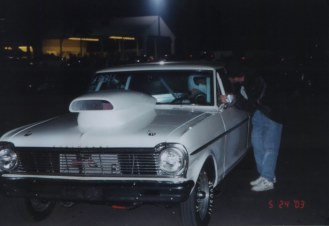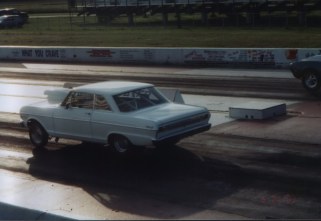 Racing continues in 2003
Winning is fun! Don't even have the helmet off yet, and already telling Dad the story (left).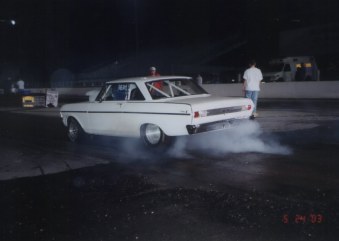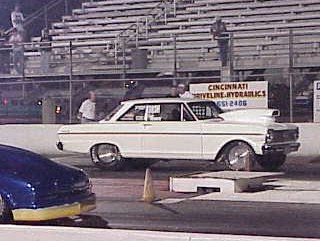 Staging in the final round at Edgewater. We won that one! (right, 2005)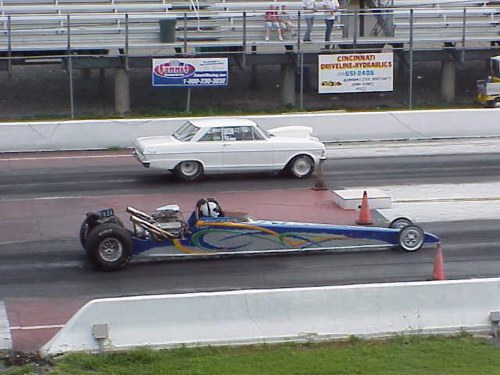 Bernie returns to competition in September of 2003, after a 22 year absence.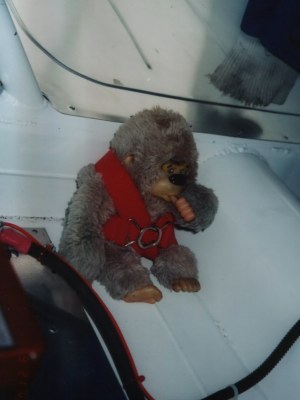 This is Clyde, a passenger in the Nova. Clyde sat on the dash the entire time the car sat dormant in Bernie's garage. As far as Ben and Dina are concerned, this was forever. Now, he has his own little harness. If we could just find a helmet in his size...
Special thanks to Decker Paint and Body, Mike Osborne, Instant Karma Racing and Whitefoot Racing.